Pacific Salmon Foundation announces grants to Hoy-scott Watershed Society and Fraser River Discovery Centre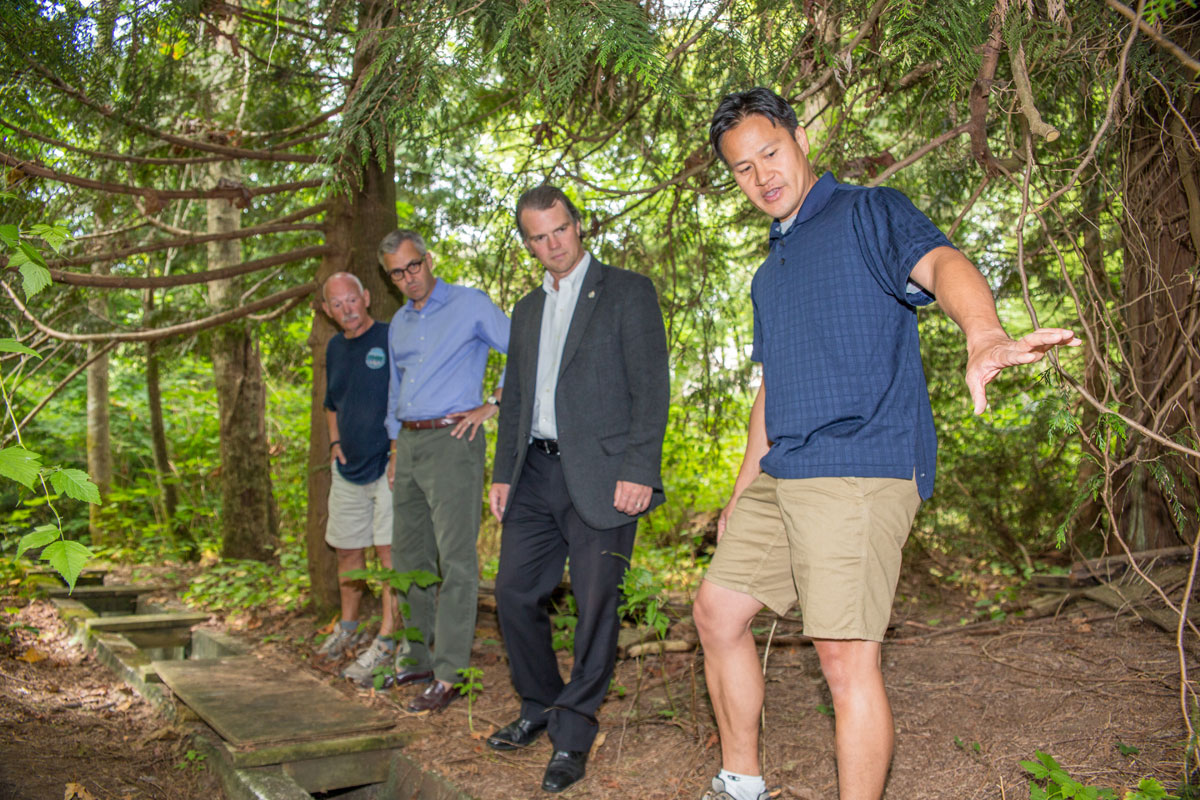 [Photo above:  Rodney Lee, hatchery manager for the Hoy Scott Watershed Society shows the new connecting channel funded by the Pacific Salmon Foundation to (from right) MP Fin Donnelly (New Westminster-Coquitlam-Port Moody); Michael Meneer, Pacific Salmon Foundation and Chris Hamming, Hoy-Scott Watershed Society] Coquitlam and New Westminster projects to improve habitat and provide public education  
COQUITLAM/NEW WESTMINSTER, B.C. Canada – The Pacific Salmon Foundation today announced two more of its 2014 Community Salmon Program grants -- $2,350 to the Hoy-Scott Watershed Society and $1,500 for the Fraser River Discovery Centre The announcement was made in Coquitlam with local MP Fin Donnelly (New Westminster-Coquitlam-Port Moody).
The Hoy-Scott Watershed Society will use its grant to improve a connecting channel between a pond and Hoy Creek because limited water access is leaving fish stranded. The Fraser River Discovery Centre is applying its funding towards the creation of a new salmon exhibit that will lead visitors through the salmon life cycle and increase understanding of the diversity of wild Pacific salmon.
"Our granting model is designed to directly benefit wild Pacific salmon in a way that maximizes community engagement and understanding," said Brian Riddell, president and CEO of the Pacific Salmon Foundation. "The Hoy-Scott Watershed Society's hatchery does double-duty in enhancing local stocks while engaging the public through educational initiatives. The Fraser River Discovery Centre's new exhibit will reach thousands of youth who pass through its doors to help increase their understanding of the importance of Pacific salmon and the need for their conservation."
"Wear and tear over the years has impacted our Coho rearing pond so much that water no longer flows correctly and it is difficult to maintain the right water levels in the pond itself," said Chris Hamming, Treasurer, Hoy-Scott Watershed Society. "With the help of funding from the Pacific Salmon Foundation, we have been able to fix the problems and restore the pond to full operation.
"Our salmon life-cycle exhibit will be a new attraction for the thousands of families that come to our Centre every year," added Fraser River Discovery Centre Executive Director Catherine Ouellet-Martin. "By using a series of floor decals, we will literally be able to "walk them through" the lifecycle of a wild Pacific salmon. This will be a great addition at the FRDC, both during special events like RiverFest in September – which celebrates BC and World Rivers Day – and as part of our overall education program on the importance of a sustainable working Fraser River."
This year, the Pacific Salmon Foundation's Community Salmon Program will provide $1.5 million in grants to 121 projects in 72 communities across British Columbia. The total value of the projects including volunteer time and community fundraising is $9.1 million. The two projects in Coquitlam and New Westminster are good examples of this, as their total value adds up to almost $15,000 with additional funds raised at the local level.
"The work done by these two recipients and others in our communities is critical to the future of wild Pacific salmon," said MP Fin Donnelly. "You can see how that will happen on the ground here in Coquitlam at Hoy and Scott Creeks. And the same will be case at the Fraser River Discovery Centre, which has been providing education around salmon for more than 10 years and helped me personally promote the health of the Fraser River.  I want to personally congratulate both groups for their efforts, and also thank the Pacific Salmon Foundation for its continued support for salmon by effectively leveraging proceeds from the federal Salmon Conservation Stamp and philanthropic donations."
The Community Salmon Program supports thousands of volunteers who give countless hours each year to monitor watersheds, develop and implement habitat rehabilitation projects, and educate communities about the conservation and protection of salmon. Since its inception in 1987, the Foundation has provided $41.3 million in project awards and grants to a total of 2,262 projects that have involved more than 35,000 community volunteers.
The Pacific Salmon Foundation was created in 1987 as an independent, non-governmental, charitable organization to protect, conserve and rebuild Pacific Salmon populations in British Columbia and the Yukon. The Foundation's mission is to be the trusted voice for conservation and restoration of wild Pacific salmon and their ecosystems and works to bring salmon back stream by stream through the strategic use of resources and local communities. www.psf.ca