Chum arrive on time for Coquitlam's 2014 Salmon Come Home event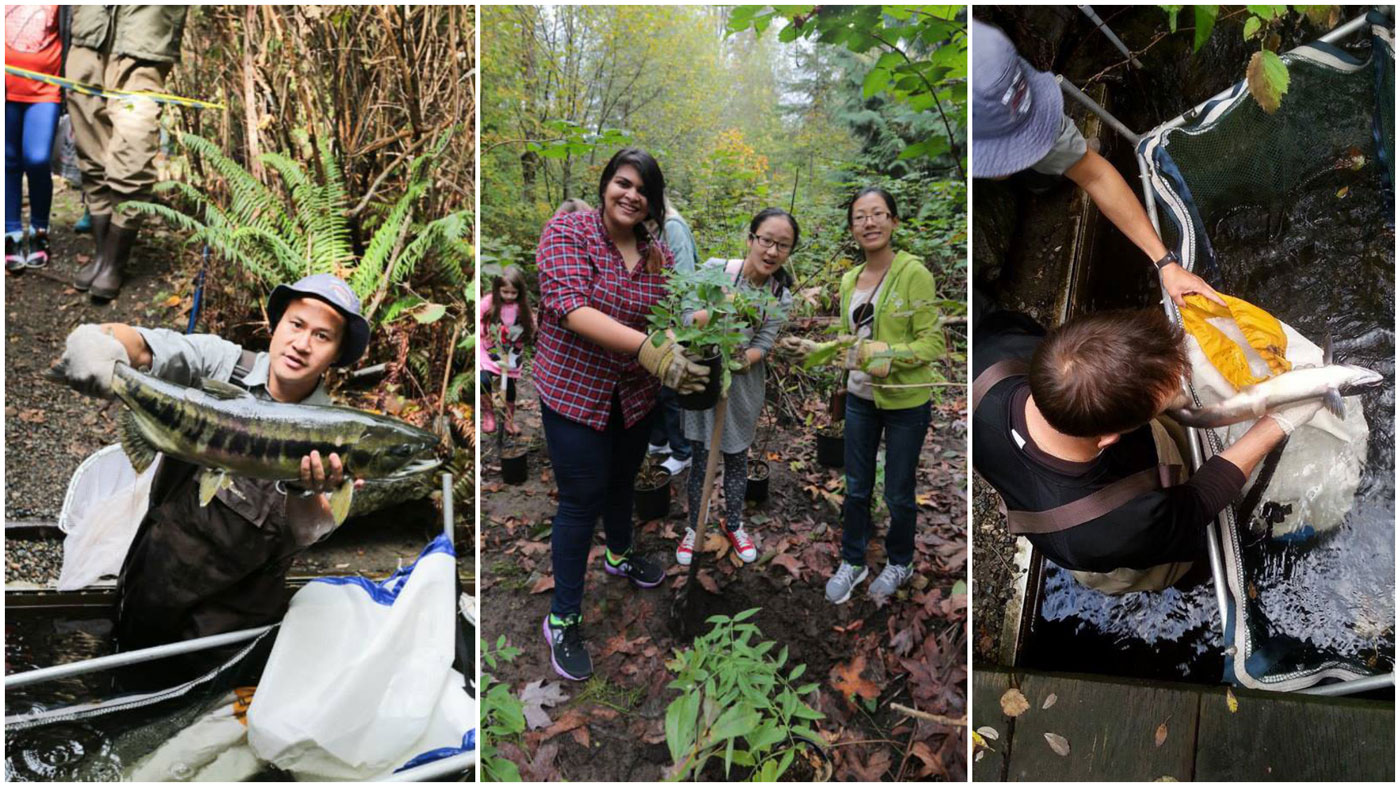 Chum salmon were swimming along Hoy Creek, likely helped by the heavy rains days prior to this year's Salmon Come Home event hosted by the Hoy Scott Watershed Society and the City of Coquitlam on October 19, 2014. It was a welcomed relief to the organizers and a pleasant surprise for the public, as at last year's event, the fish no-showed. Every fall, rain or shine the Salmon Come Home event delivers an environmentally-themed free family fun day for the local community.   It allows the public  to tour the hatchery facility and learn about the activities of the volunteers of the Society.
There were all types of local exhibitors with crafts and activities; community group displays; 'learn to fish' information with Freshwater Fisheries Society BC; salmon presentations; tree planting; music by children's entertainer, Chris Hamilton; a prize fishing pond by Kintec; food concession, face painting; photos with the salmon mascots; and a vibrant costume parade (kids and parents) with storyteller Angela Brown.
If you missed it,  prime viewing times to see the salmon are still underway as they return to the watershed from the middle of October through until early November. There are some great viewing points  in the Hoy Creek Linear park, (follow the path between 2975 & 2980 Princess Crescent) across from the City Centre Aquatic Complex which is located at the corner of Pinetree and Guildford Way, or simply Google search "Hoy Creek Hatchery" for location.  See more photos.
For further information please call 604-927-3583 or visit the Hoy / Scott Creek Watershed Society Facebook page.  Stay tuned for the  Hoy Scott Watershed Society's "Salmon Leave Home" event which happens in spring!
Below is a great underwater peek of chum at Hoy Creek taken October 18th, 2014 by Desmon Tansuma.
http://vimeo.com/109423648