Painting Poppies... Lest We Forget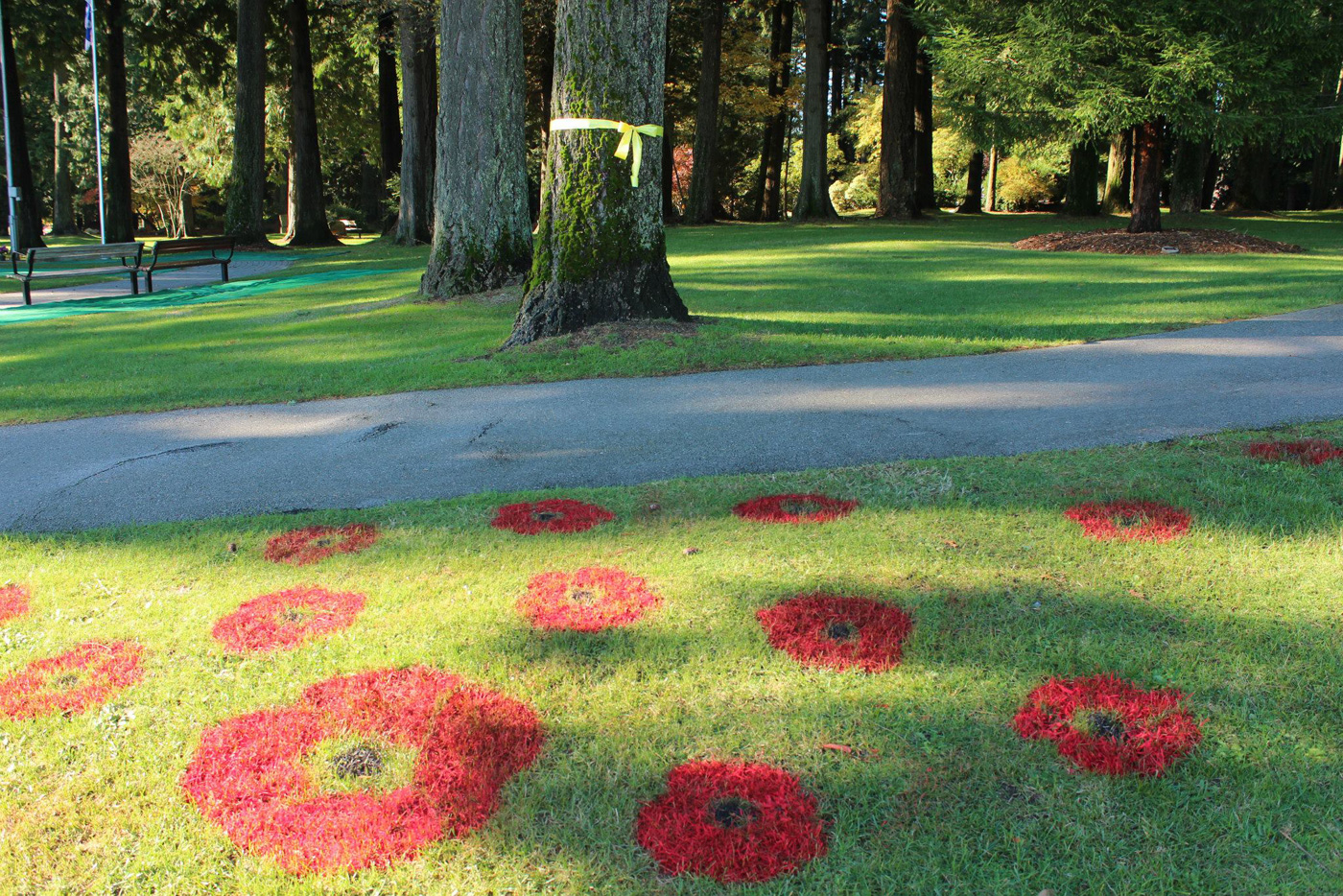 I heard about the poppy painting in my area through social media via the City of Coquitlam.  A few photos is all it took, along with a gorgeous sunny fall day yesterday to run out and find Blue Mountain Park in upper Coquitlam to take some photos of a community based participatory exhibit (Parkspark) that took place over the past week and will be featured today, Remembrance Day 2014. Finding Blue Mountain Park was a delight in itself as it's a beautiful park with solid old trees, concrete art sculptures and the only veteran memorial cenotaph in the City.
What a delight to see the poppies first hand and although I came late, a couple City workers were still on site and I was able to paint my own poppy.  I was moved by the notes that school children and others placed upon yellow ribbons tied to the many trees along the park on Porter Street.  Poppies were also planted by school children.
Today there will be a memorial ceremony to remember those that died for our country.
It makes me proud that the famous poem, "In Flanders Field" was written by a Canadian. It has a haunting sound when spoken or read and brings back childhood memories of reading it each year in school.
In Flanders fields the poppies grow, Between the crosses, row on row, That mark our place; and in the sky The larks, still bravely singing, fly Scarce heard amid the guns below.
We are the Dead. Short days ago We lived, felt dawn, saw sunset glow, Loved and were loved, and now we lie In Flanders fields.
Take up our quarrel with the foe: To you from failing hands we throw The torch; be yours to hold it high.  If ye break faith with us who die We shall not sleep, though poppies grow In Flanders fields.
"In Flanders Fields" was written during the First World War by Canadian physician Lieutenant Colonel John McCrae. He was inspired to write it on May 3, 1915, after presiding over the funeral of friend and fellow soldier Alexis Helmer, who died in the Second Battle of Ypres. According to legend, fellow soldiers retrieved the poem after McCrae, initially dissatisfied with his work, discarded it. "In Flanders Fields" was first published on December 8 of that year in the London-based magazine Punch. - Wikipedia
See more of my photos from my visit HERE
http://youtu.be/qz9FmEuCmfs?list=UUroRvUh1bUyB6KQCL5mX6rg